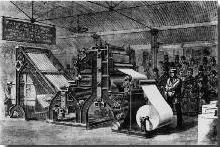 Krohmaly's Printing was founded in 1957 by Arnold Krohmaly of North Braddock, PA. Arnold was born in North Braddock and as a young child he returned to Slovakia. Arnold studied printing in Prešov, Slovakia. He then returned to Pittsburgh Pennsylvania where he opened his first printing business in the basement of his home on McDonugh Avenue in North Braddock, PA. Shortly after he rented property on Woodstock Avenue in Swissvale and developed a printing business that he hoped one day would grow. Several years later in 1961 he was introduced to some additonal property on Washington Avenue, he built his printing shop and from there you can still walk into this business and see Arnold and his son print on his historic Linotype, Heidleberg and Printing Presses.

Prior to that time, it wasn't all that important to think about the rights of authors in books because it was so expensive and time-consuming to produce books that few were in fact duplicated. With the printing press, however, it became possible to reproduce books in multiple copies, by the hundreds or even the thousands.

Krohmaly's Printing . . . a family business since 1957 At Krohmaly's, we appreciate your business, and we think you'll appreciate our commitment to quality. We've always felt that a fancy-looking photo copier could never take the place of a well-oiled Heidelberg press. That's why our printed pieces stand apart from those "Kopy Kids" and "Instant Press" specials. Come to a shop where craftsmen still preside and enjoy our commitment to quality.When all is said and done we may be just what you are looking for in a printer. With the quality you need and count on, at the price you can afford, with the option to make your finished piece whatever you need it to be.

Come to Krohmaly's you'll appreciate our commiment to quality and the difference it makes.



The Best Printing for the Best Price . . .